Grab your co-worker, your spouse, a parent or a child; anyone with whom you want to share an experience you will both cherrish for a lifetime. The wild and scenic Rogue River trip is a guided fishing adventure unlike any other available. This trip provides world-class fishing for our amazing salmon, adult steelhead and half-pounders, with options for anglers of every skill and tool preference. Our Rogue River fishing guides are experts at taking the experienced fisherman and putting them on the fish to test their skills and helping the first-time angler to bring in their first steelhead or Salmon, an experience likely to make them a life-long angler.
This incredible guided fishing experience is matched with thrilling rides in a classic Mckenzie, or Rogue River special, drift boat which is rowed by a guide who skillfully navigates the boat through many exciting and famous, Rogue River class III rapids. While the fishing is the main draw for most on this trip, the whitewater experience is not to be undervalued. As one customer said, "I have fished all over the world and never had an experience like this one; the combination of great fishing with the thrill of the rapids, it was amazing."
Finally, a multi-day river trip through a beautiful and pristine "wild and scenic" wilderness where you can stay in lodges each night is something entirely unique to the Rogue River. Unlike any other trip in the states, on this adventure you float down river each day and stay in a new lodge each night. No camping, but instead a soft bed, hot shower and incredible home-cooked meal each night all while avoiding cell phone service, WiFi, and staying in the wilds of Oregon.
Spaces for these guided fishing trips on the Wild and Scenic Rogue River in the fall are very limited and book out fast. Sign up for you trip today!
Trip at a glance
$4398 per boat (holds 2 people)
Who is this trip for?
This trip is great for anyone looking for a river adventure with some incredible fishing.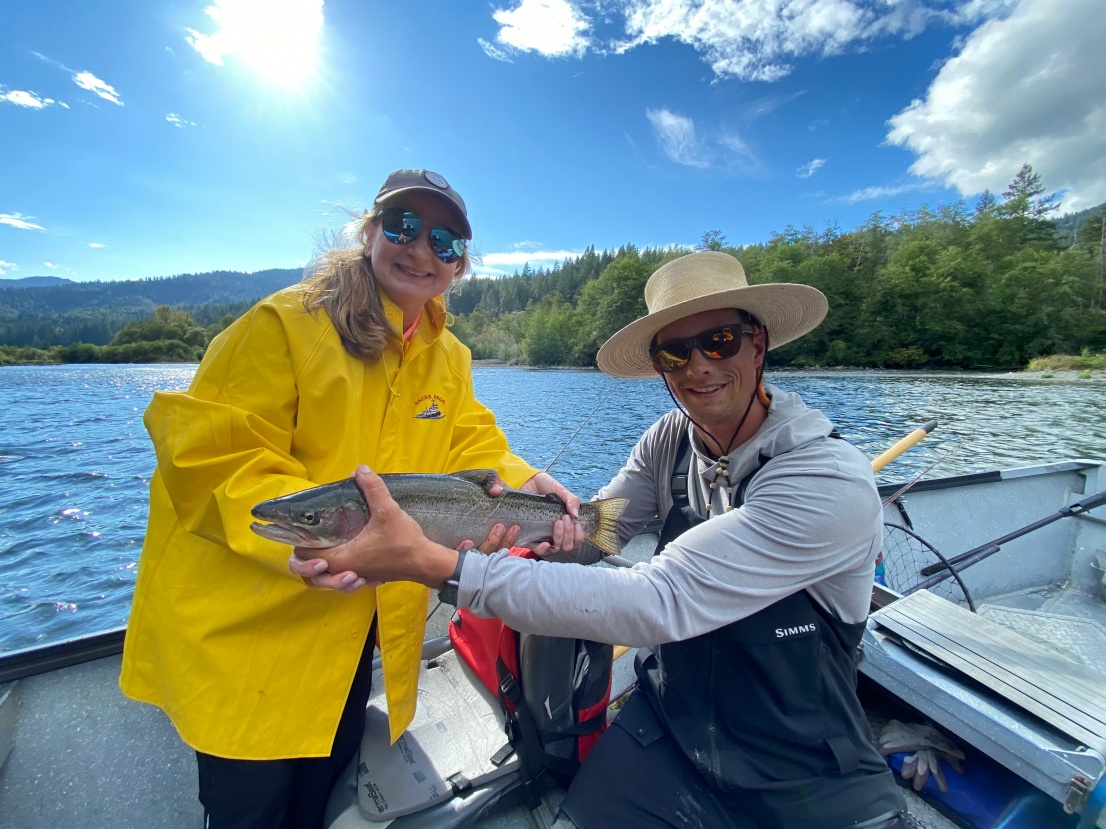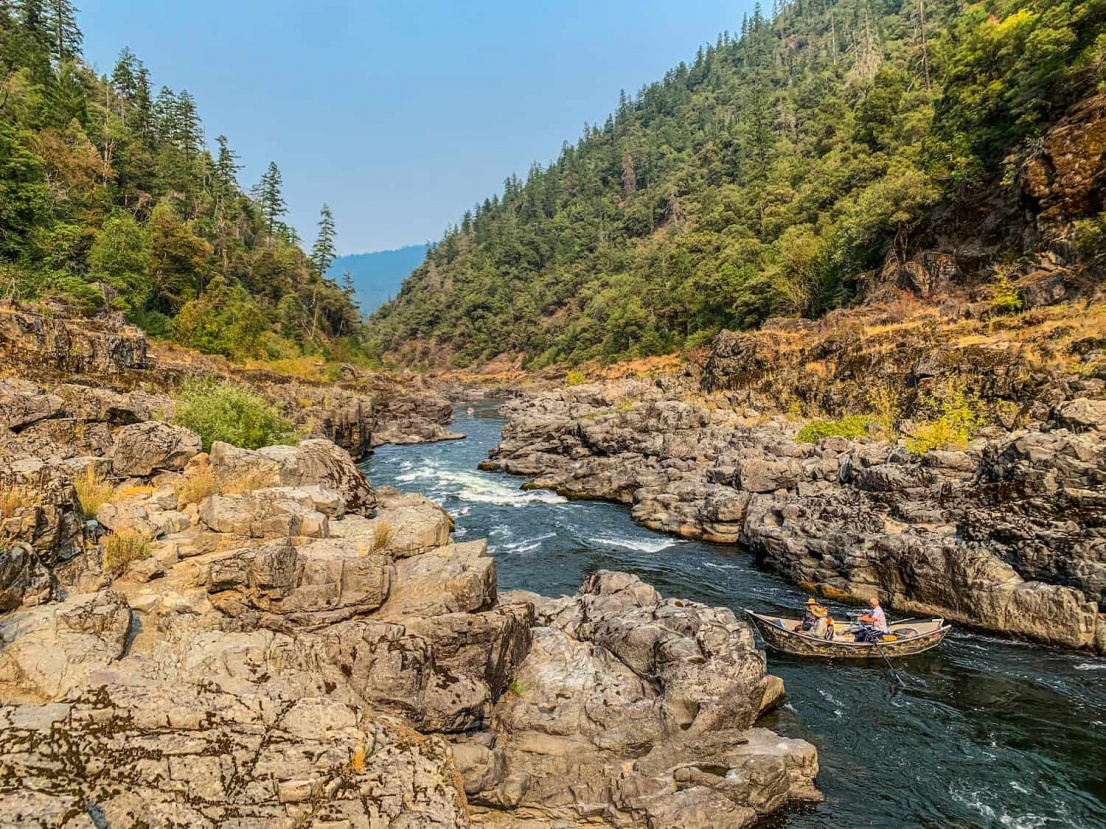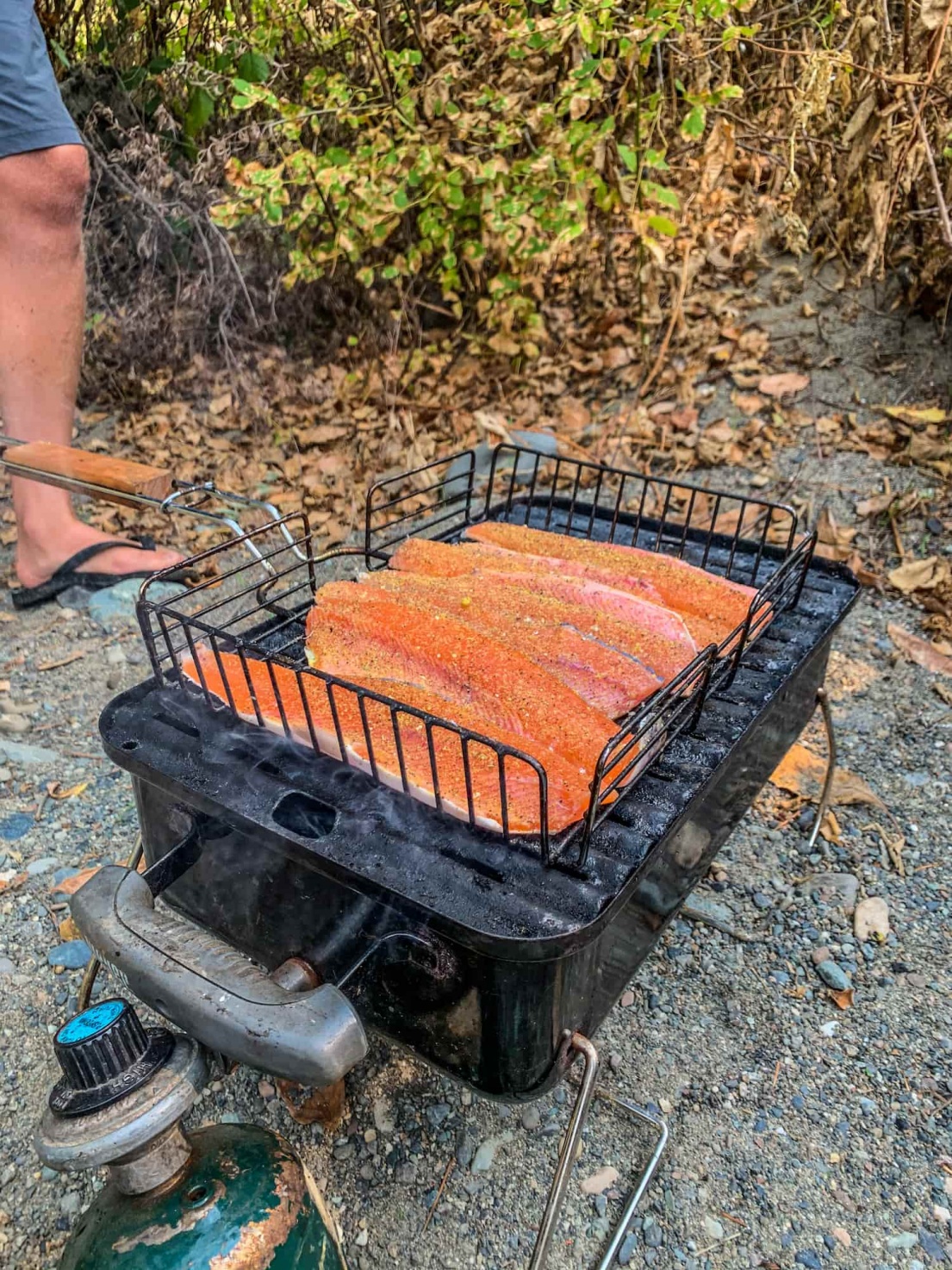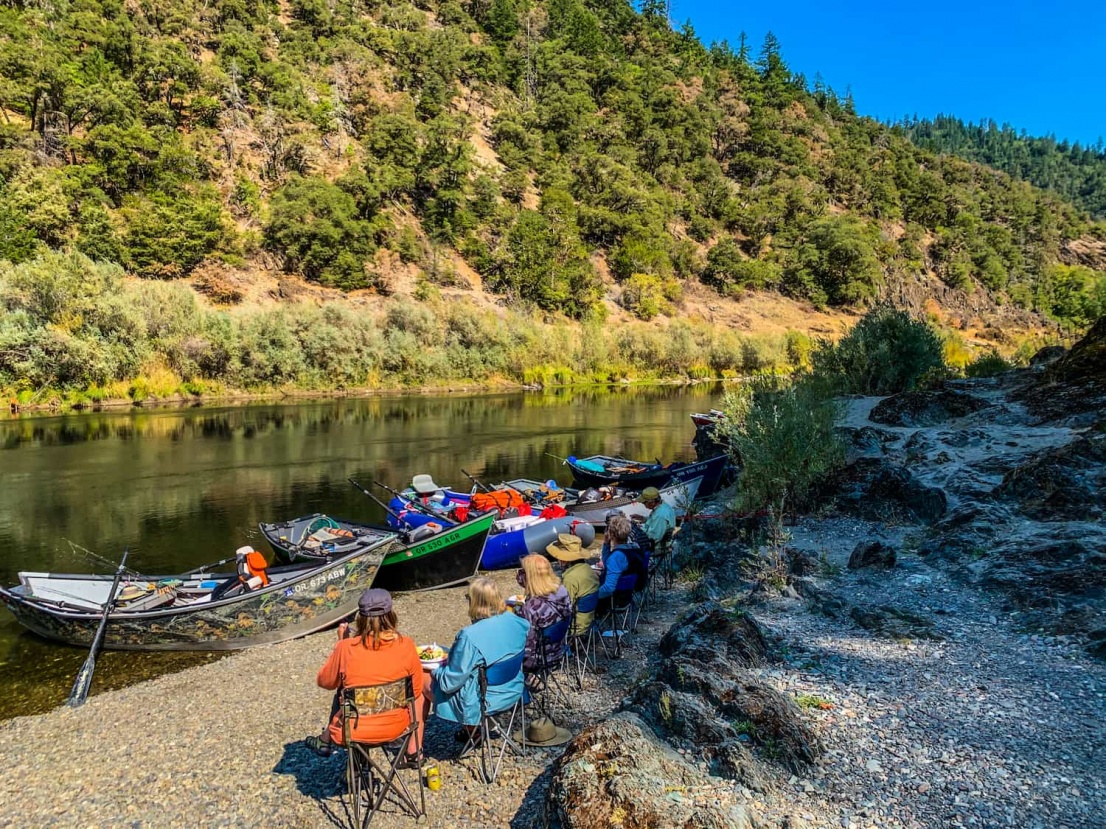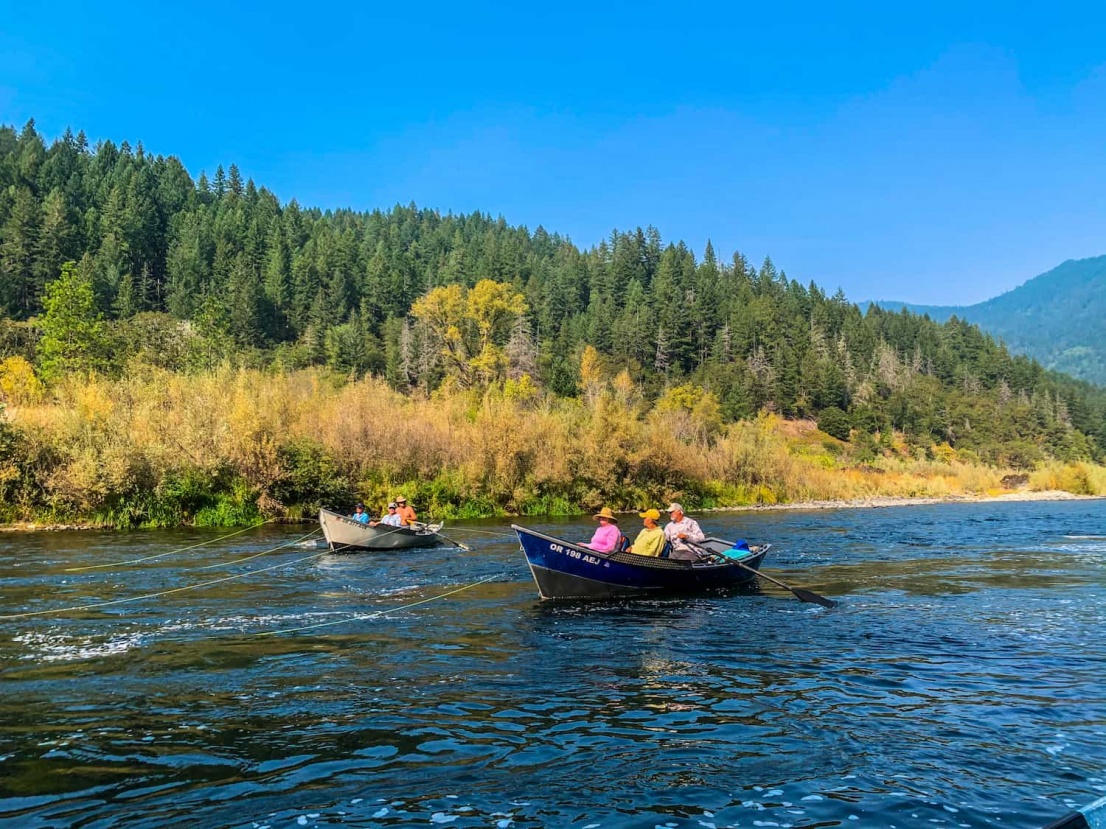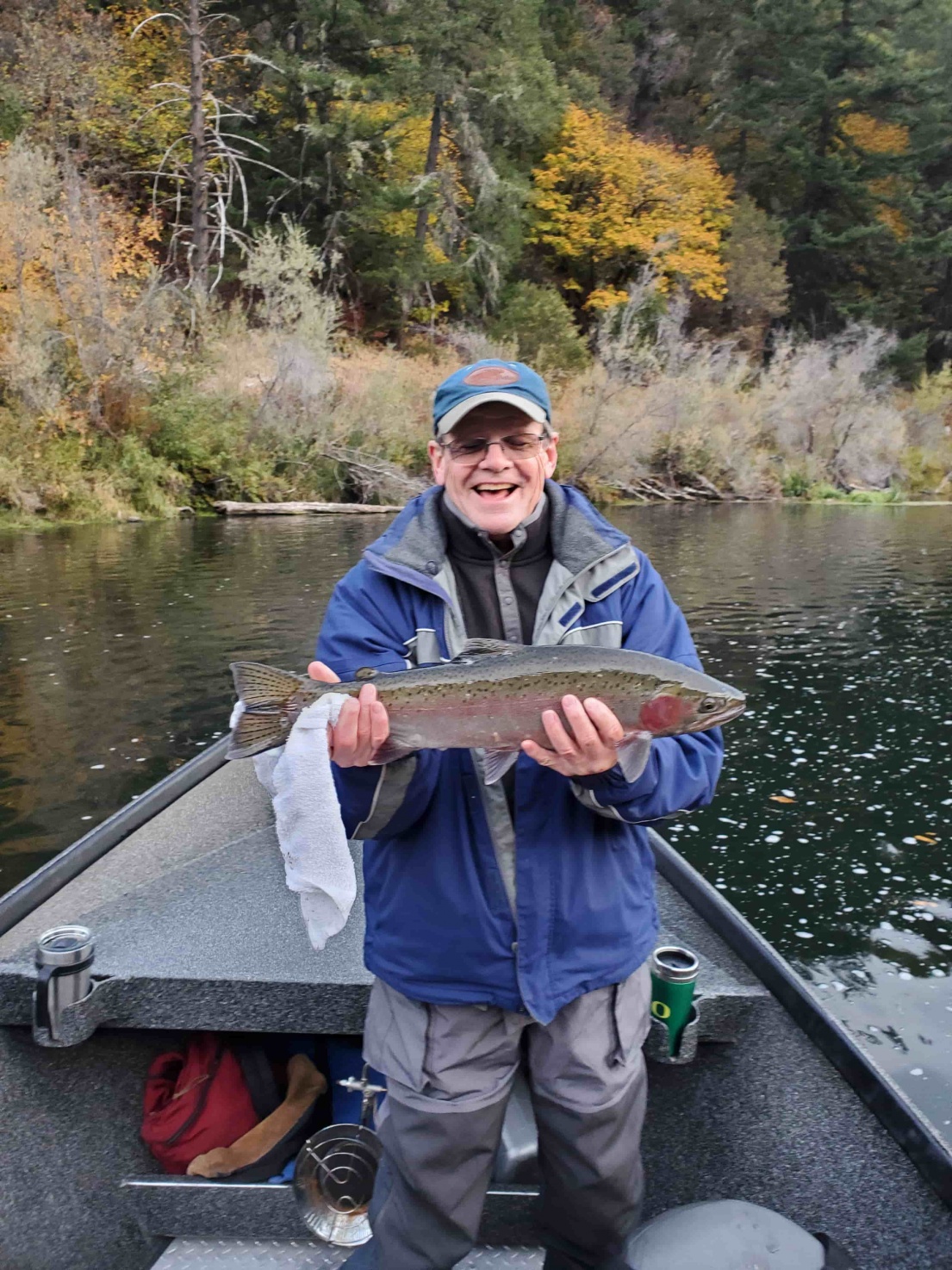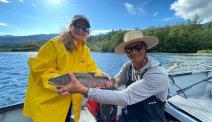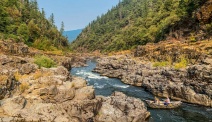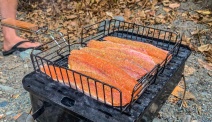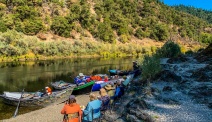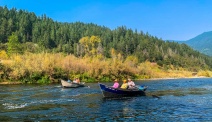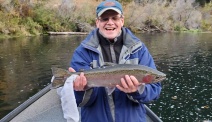 Dates / Rates
4-day Lodge Trip
Price
$4498 per boat (up to 2-people)
Last minute cancellation sale - October 9th, 2023 - 25% off!
$3373.
Trip Dates (launch date) - Same dates every year
August 30
September 4, 9, 14, 19, 24, 29
October - 4, 9, 14, 19, 24, 29
3-day Lodge Trip
$4198 per boat (2-people)
Trip Dates (launch date) - Same dates every year
August 30
September 4, 9, 14, 19, 24, 29
October - 4, 9, 14, 19, 24, 29
Meeting Location
Trips meet at Orange Torpedo Trips headquarters in Merlin Oregon.
210 Merlin Rd.
Merlin, OR
97532
We can also pick you up at any Grants Pass area hotel around 7:30 am. Just let us know ahead of time.
Rogue River Fishing Trip - Trip Itinerary
Day 1 -
8:00 AM, Meet at our shop in Merlin Oregon. Your car will be parked in our gated lot for the remainder of the fishing trip on the Rogue River.
At our shop you will re-pack your luggage for the trip into our supplied dry-bag. This drybag is where everything for the trip will go. We will go through a quick orientation at the shop to help prepare you for the Rogue River fishing trip and make sure you have all of the information you need before loading into our van for the quick 15 minute ride down to the put-in at Almeda Bar.
9:00 am, Launch from Almeda Bar and start fishing. The first 4 miles of the trip includes some fun class II and II+ rapids mixed with often productive fishing holes. After about 90 minutes we will arrive at Grave Creek which is a good outhouse stop if anyone needs to quickly use a pit-toilet before the PFD's go on and the class III whitewater begins. Upper and Lower Grave Creek are thrilling class III rapids with the second being a small water-fall like rapid which is an exciting ride in the drift boat. After these rapids some good fishing begins again before the quick push down to Raine Falls.
At Raine Falls everyone un-loads the boats for a quick walk around while the guides lower their drift boats through fish-ladder with ropes. This is a scenic Rogue River spot and fun to watch the guides work their boats down the narrow chute. After everyone loads in below the falls some great Salmon Fishing leads ends with a push down to lunch. Our riverside picnic style lunch will include multiple salads, snacks and sandwich options.
Post lunch some more classic Rogue River fishing leads into the final miles of whitewater down to the lodge. This section has back to back class II and III rapids including Slim Pickings where the boats slide through tight channel only inches wider than the boats themselves and the fun Upper Black Bar falls. Between rapids some good Salmon Fishing and pockets of Steelhead can be found. In the early evening we will float into Blackbar Lodge. Where a hot shower awaits before your evening beverages lead into general revelry and dinner. After dinner, partake with your friends in games of cards before heading back to your cabin for a great night of sleep as you prepare for another day of fishing on the famous Wild and Scenic Rogue River.
Day 2 -
After a hearty breakfast at the lodge we load back into the boats for a GREAT day of guided fishing. Usually things really start to take off today with great fishing most of the day. Today also includes a wonderful ride down through Kelsey Canyon, a beautiful bedrock gorge with incredible scenery ending in a popular spot for picking up some Salmon. At lunch today, if things have gone well, the group will enjoy their first lunch of fresh Steelhead and maybe a Salmon. The afternoon is more great Rogue River fishing leading up to our night at Marial Lodge.
Day 3 -
Start off today with the most exciting, and arguably the most scenic, portion of the Rogue River trip with a ride through mule creek canyon. Through this vertical wall gorge the river picks up pace before coming to it's choke point at the bottom of spot called the coffee pot, where the entire Rogue River condenses down to being 12 feet wide. The drift boat ride through here is a combination of excitement and jaw dropping scenery. As the canyon begins to widen we push down to Blossom Bar where riders will un-load and walk around while the guides nagivate their drift-boats through the extremely tight boulder garden making up the Rogue River's most notorious rapid. It can be fun during the walk around to stop and watch the guides run their boats through.
Below the rapid guests will meet back up with the guide who has loaded a small outboard motor on the back of the boat. From here on the majority of the trip is either fishing or motoring down river to the next great fishing hole. Often the best fishing of the trip is found in these lower canyons. In the early evening, after a hopefully productive day of fishing, the group will float up to Lucas Lodge where a delicious Prime Rib dinner is waiting.
Day 4 -
The final day of fishing on the Rogue River is often some of the best. Journey downstream another 15 miles through scenic gorges like cougar canyon where incredible angling of every type awaits. In the early afternoon we will arrive at Quosatana Creek where the floating portion of our trip concludes. Here we load into our van for a 3 hour drive back to our shop in Merlin Oregon. You can also choose to have you car shuttled to Q Creek if you want to drive back yourself or head out to the coast on your drive. If you want to do this just let us know. There is a $150 fee for the shuttle. Another option here is to book a private flight out of Gold Beach back to the Grants Pass or Medford Airport. Doing this helps avoid the 3 hour drive and is a great option. Just call us for details.
The Wild and Scenic Rogue River fishing trip is more than just another fishing adventure. The combination of the historic lodges, the world-class whitewater and the famous fishing make this trip something entire unique and a trip that will become your new favorite escape.
Where to Meet
Orange Torpedo Trips
210 Merlin Rd. Merlin, OR. 97532
Take exit 61 off of Interstate 5. Exit is approx. 3 miles north of Grants Pass. At exit turn left (west) and follow Merlin Rd 3.2 miles until you see Orange Torpedo Trips on right. We have a secure fenced parking lot where your car can be stored during your trip.
Accommodations
Plan on meeting us at 8:00 AM. Due to the early hour of the day we strongly recommend staying locally the night before your trip. Here are a few of the local accommodations in the Grants Pass area. We are happy to pick you up at any Grants Pass area hotel if you let us know ahead of time.
Camping
If you plan to camp while you're here, we recommend Indian Mary Park (541-474-5285). The nearest RV Park is Beaver Creek RV on Merlin Rd., although Indian Mary Park also provides full RV hook-ups. We have a parking lot that will accommodate RVs while you are on your trip.
Flying In
The closest commercial airport is in Medford, Oregon (airport code MFR), 34 miles southeast of our shop in Merlin. In the Medford Airport there are four car rental companies (Budget, Avis, National, Enterprise, and Hertz). At this time we do not offer transportation to or from the airport, but we can pickup and drop off at any Grants Pass Hotel the morning of a trip and at the conclusion of a trip. If you plan to not rent a car, you can call Double D Shuttles at 541-476-7773 and hire them to transport you from the Medford Airport to a Grants Pass Hotel. Please note: Our trips return too late in the day for us to ensure you will make a flight out of Medford same day. We suggest making reservations for the next day after the trip concludes.
Upon arrival you will be supplied with dry bag to pack in for the trip. In this bag, you will place everything you want at the lodge. Anything you want to take in the boat you can bring in a small bag to take with you on the boat.
We supply limited amounts of alcohol. Roughly 3 beers per person. Please feel free to show up with any beverages you will want during the trip. In your boat, your guide will have a cooler for beverages during the day and additional beverages can go on the raft to have at the lodge and resupply your boat cooler daily.
Suggested Packing List
1 pair of comfortable shoes for the lodge
1 pair of rubber boots or dry footwear for boating
2 pairs of long pants
2 long sleeve shirts
2 pair of shorts or swimsuit
1 warm jacket
1 pair of long underware
1 set of full rain gear
Sunglasses with chums or croakies
Sunscreen
Flashlight or headlamp
Insect repellent
Personal hygiene items
Current Oregon Fishing License with Salmon/Steelhead Tag. Please purchase by the day before your trip.
Additional beverages
FAQs
While you are free to bring your favorite fly rod and any gear you love our guides will have a boat full or rods rigged to get you on the fish. So feel free to just use our equipment if you want.
You are welcome to fly fish the entire trip or none of the trip. It is up to you. We find that most folks like a mix of fishing tactics but it is your trip so we are happy to work with you however you want.
Yes. If you want your own room we have a single occupancy rate.
Absolutely. We regularly take first-time and novice anglers and often inspire a life-long fishing passion in them. The combination of scenery, whitewater, and usually productive fishing makes this a great trip for both the passionate angler and the novice or "not-passionate."
We supply a very limited amount of beverages for the trip. Please feel free to show up with anything you would like to drink during the trip. Your guide will have an ice chest on their boat to store drinks you want during the day. Additional drinks can go on the raft to access in the evenings and to re-stock the daily coolers on your boat. Please feel free to bring items to make cocktails, wine, beer, soda or anything else you would like during the trip.